A Showcase of the Finest Indian TV Series: The Ultimate Compilation of Best Indian Shows
From thrilling action-packed series to heartwarming romance dramas and thought-provoking literary adaptations, Indian TV series have been making waves in the digital streaming world. With an array of genres to choose from, these shows have captivated audiences with their compelling storytelling and stellar performances. Whether you're a fan of crime thrillers, comedies, or reality shows, there's something for everyone in the realm of Indian television. Join us as we delve into the world of the best Indian TV series that have taken audiences by storm.
The Family Man
The Family Man is a gripping and intense series that combines action and drama. It revolves around the life of Srikant Tiwari, a dedicated senior officer in the Threat Analysis and Surveillance Cell (TASC), as he fights against terrorism. However, Srikant also faces the challenge of keeping his family safe from the dangers of his secret job. Experience the thrilling storyline on Prime Videos.
Sacred Games
Vikram Chandra's acclaimed novel takes readers on a deep exploration of the life of Inspector Sartaj Singh, an officer in the Mumbai Police. When Sartaj receives an anonymous phone call from a menacing gangster named Ganesh Gaitonde, who threatens to bring destruction upon the entire city, he embarks on a quest to save Mumbai from catastrophe. Immerse yourself in this gripping narrative on Netflix.
Kota Factory
Step into the world of Kota, Rajasthan, an educational hub renowned for its coaching centers, in India's first 'Black and White' show. Kota Factory sheds light on the challenges faced by present-day IIT-JEE aspirants in their daily lives. Witness the struggles and aspirations of these young individuals as they navigate the pursuit of their dreams. Stream it now on Netflix.
Paatal Lok
Paatal Lok is a thrilling police-based investigative series that follows the journey of a determined police officer assigned to unravel a high-profile case. As he delves deeper into the investigation, he discovers a hidden realm called 'Paatal Lok' and uncovers shocking revelations about the past of the four suspects. Dive into this riveting storyline on Prime Videos.
Breathe
This gripping thriller delves into the lives of ordinary men who find themselves trapped in extraordinary circumstances. The series poses a thought-provoking question: to what extent are individuals willing to go to protect their loved ones? Two desperate and driven men become entangled in a dangerous cat and mouse game as they strive to save the person they hold dear. Watch it on Prime Videos.
Made in Heaven
Made In Heaven is a 2019 Indian romantic drama web series that explores the intricacies of life and relationships. Through the lens of weddings, the series introduces us to Tara and Karan, who work as wedding planners. As they navigate the complexities, mistakes, and lies surrounding the lives of their clients, they also confront their own personal struggles. Experience this captivating series on Prime Videos.
Panchayat
Panchayat is a motivational comedy-drama series that takes place in a rural village setting. It revolves around the life of Abhishek, an engineering graduate who finds himself unable to secure a job that matches his qualifications. The series portrays the challenges and struggles faced by Abhishek as he embarks on his first government job. Discover his journey on Prime Videos.
Four More Shots Please
Four unapologetically flawed women navigate their lives in millennial Mumbai. Through their friendships and shared experiences, they confront romance, work-life conflicts, ambitions, and anxieties. Join them as they discover what truly drives and fulfills them, all while enjoying their fair share of tequila. Catch this compelling series on Prime Videos.
Delhi Crime
Delhi Crime is a gripping crime drama series based on the events following the horrifying Delhi gang rape case in 2012. The series follows the Delhi Police's investigation into apprehending the perpetrators of this heinous crime. Experience the meticulous detective work and the emotional journey of the police as they seek justice for the victims. Stream it on Netflix.
Breathe Into The Shadows
Breathe: Into the Shadows is a riveting crime drama thriller series. When a mysterious masked man kidnaps a 6-year-old child, he demands an unusual ransom that puts Dr. Avinash Sabharwal in a difficult position. In order to save his daughter's life, Dr. Sabharwal must make a life-altering decision. Explore the dark twists and turns of this thrilling series on Prime Videos.
Bard Of Blood
Bard of Blood is an enthralling spy thriller series based on the espionage novel by Bilal Siddiqi. The story follows RAW agent Kabir Anand as he embarks on a covert mission in Balochistan after four Indian spies are captured. As the mission unfolds, Kabir must confront his own personal demons from the past. Dive into the world of espionage on Netflix.
Stories By Rabindranath Tagore
Set in Bengal during the 1920s, this series beautifully brings to life the timeless short stories by the legendary Bengali writer and Nobel laureate Rabindranath Tagore. These stories explore the relationships between individuals who are unlikely companions and capture the essence of human connections. Experience these poignant tales on Netflix.
Ghoul
Ghoul is a chilling Indian horror series that draws inspiration from Arab folklore. The story revolves around Nida Rahim, a young interrogator whose search for the truth about a new prisoner becomes a fight for survival. Enter a world of terror as Nida's quest leads her to confront a malevolent creature known as a ghoul. Brace yourself for this haunting series on Netflix.
Hostel Daze
Hostel Daze is a delightful Indian Hindi-language comedy-drama series that explores the bond between four classmates in an engineering hostel in India. Join them as they navigate the ups and downs of hostel life, forming lasting friendships and experiencing the unique challenges that come with pursuing higher education. Laugh along with their adventures on Prime Videos.
Ajeeb Daastaans
Ajeeb Daastaans is a captivating Hindi-language anthology film consisting of four short film segments. Each segment takes viewers on an uncomfortable yet thought-provoking journey through imperfect relationships. Explore the complexities of human connections and the intricacies of emotions in this anthology that pushes boundaries. Watch it on Netflix.
Ray
Ray is a remarkable Indian anthology drama web series that adapts four short stories from the acclaimed filmmaker Satyajit Ray for the screen. Each story offers a unique and insightful perspective, delving into a range of themes and emotions. Experience the brilliance and depth of Ray's storytelling on Netflix.
Mumbai Diaries 26/11
Mumbai Diaries 26/11 is a compelling Indian Hindi-language medical drama set during one of the most harrowing days in the country's recent history. It portrays the tireless efforts of doctors, nurses, first responders, and other hospital personnel as they grapple with a crisis of immense magnitude in Mumbai. Witness their courage and determination on Prime Videos.
Tandav
Tandav is an intriguing Indian political thriller web series. Its captivating aesthetics are sure to keep viewers hooked. The series explores the intricacies of dealing with different personalities within a political party, where power and managing various egos are prerequisites. Delve into the world of politics and its dark undercurrents on Prime Videos.
Aranyak
Aranyak is a mesmerizing blend of mystery, drama, and mythology, with a strong political undertone weaving through it. The series follows two mismatched hill station police officers as they navigate a web of suspects while investigating a puzzling murder. Unravel the secrets and uncover the truth in this gripping series on Netflix.
Bombay Begums
Bombay Begums is a captivating Indian drama web series that revolves around strong-willed and independent women of different ages and backgrounds as they cross paths in modern-day Mumbai. Navigate their dreams, desires, and disappointments as they navigate the complexities of life in the bustling city. Experience their journeys on Netflix.
The Last Hour
The Last Hour is an extraordinary Indian supernatural crime thriller series that revolves around the life of a mysterious shaman with the ability to communicate with the spirits of the dead. When he encounters a murder mystery at a crime scene, he must confront a dark figure from his past. Immerse yourself in this thrilling drama on Prime Videos.
Alma Matters
Alma Matters is a captivating Netflix docu-series that sheds light on the lives of students at the highly esteemed Indian engineering college, IIT Kharagpur. Through the experiences shared by the alumni, viewers gain insight into the pleasant surprises, harsh realities, and transformative journeys that shape their college lives. Demystify the IIT experience and discover their stories on Netflix.
Thriller & Action
Farzi
Do you remember when Shahid Kapoor was primarily known for his looks? Well, now you have the opportunity to see him in a completely new light in his OTT debut, Farzi. This unique thriller features a star-studded cast including Shahid Kapoor, Kay Kay Menon, and Bhuvan Arora. The TV series revolves around an artist who finds himself caught up in a high-stakes con job, with an energetic and charismatic task officer on a mission to rectify the country's mistakes.
Taaza Khabar
If you're having trouble deciding on the genre of your next watch, you're in the right place! Start your day off right with Taaza Khabar, an Indian fantasy comedy thriller that showcases Bhuvan Bam in a whole new light. Known for his popular YouTube channel, BB Ki Vines, Bhuvan Bam's impressive acting skills bring this intriguing concept to life. The story follows a sanitation worker who discovers magical powers that lead him down a new path in life. Experience the thrill like never before by watching Taaza Khabar on Disney Hotstar!
Jaanbaaz Hindustan Ke
If you're a fan of political and patriotic storylines, Jaanbaaz Hindustan is the perfect series for you. This series takes viewers on a journey across India and is a treat for avid travelers. Jaanbaaz Hindustan Ke centers around an IPS officer who becomes the lead investigator in a bomb attack case involving ISIS. While the plot may seem familiar to fans of Bollywood's terrorism movies, the stellar acting and direction make it a must-watch!
Trial By Fire
If you're in the mood for an emotional and gut-wrenching series featuring some of Bollywood's best talent, Trial By Fire is the perfect fit. With Abhay Deol, Ratna Pathak Shah, and Anupam Kher in lead roles, this series tells the story of a couple who are loving parents and have a seemingly perfect family, until tragedy strikes. Follow their difficult and resilient journey towards justice over the course of two decades. Get ready to shed some tears while watching this series on Netflix!
Cat
Every scene and moment in this incredible masterpiece is filled with suspense and excitement. The director has crafted a captivating thriller that keeps viewers hooked from beginning to end. Randeep Hooda's performance, along with the rest of the cast, is outstanding in the gripping thriller CAT. If you're a fan of dramatic dramas with intriguing twists, this is definitely a movie you should give a try.
Randeep Hooda has truly excelled in his role as Gurnam. He brings a deep sense of humanity to the character, and every scene he is in carries a weight that is appropriate for his role. Abhishant Rana, who plays his junior counterpart, dominates the stage with his facial expressions. Moments like Gurnam's powerlessness while pleading with his sibling to stay away from drugs and Madam Aulakh's revelation of her past will move you.
Dharavi Bank
This series, which is available on MX Player and was released on November 19, 2022, tells a compelling story set in India's largest slum, Dharavi. It depicts the fascinating life of Thalaivan, a criminal with a 30,000 Crore enterprise portrayed by Suniel Shetty. This gangster leader controls a significant portion of Dharavi through his wealth and influence.
Janvi Surne gives the order to raid Thalaivan's residence in an attempt to break his hold on Dharavi. She enlists the help of Jayant Gavaskar, another Joint Commissioner who seems to have a personal motivation to take down Thalaivan and assist Janvi in achieving her objective.
Khakee: The Bihar Chapter
Watch Trailer of Khakee: The Bihar Chapter
This series chronicles the conflict between Chandan Mahto, a notorious criminal, and Amit Lodha, an exceptional police officer. Ranjan Kumar narrates the Netflix series, which is based on the novel written by the real-life Amit Lodha. The story follows their humble beginnings to their action-packed conclusions.
According to the portrayal, Lodha is an upright policeman who is willing to take a hostage in exchange for the protesters clearing the train routes.
Mukhbir – The Story of a Spy
Watch Trailer of Mukhbir – The Story of a Spy
If you're looking for another thriller that delves into the world of terrorism, Mukhbir is the perfect choice. Set in the aftermath of the Sino-India war, the story follows an expert Indian spy on a crucial mission in Pakistan to prevent an attack. This riveting series on Zee5 will keep you on the edge of your seat with its enriching plot.
Yeh Kaali Kaali Aankhein
Watch Trailer of Yeh Kaali Kaali Ankhein
If you enjoy shows with a premise similar to 'You', then this Netflix original will also satisfy your cravings. Starring Shweta Tripathi, Anchal Singh, Tahir Raj Basin, and Saurabh Shukla, the show has an IMDb rating of 7.0.
The series tells the story of a sociopathic woman, the daughter of a powerful politician, who is determined to marry a man from a small town. As things progress, the man himself embarks on a dangerous journey to free himself from the clutches of this mysterious woman.
Vadhandhi
Vadhandhi stands out with its excellent storytelling. The script, uncommon in the emerging Tamil web series market, is lengthy and well-written. Each scenario takes its time to establish itself, and the monologues flow seamlessly. The show bravely examines the negative aspects of things. It revolves around the murder of a beautiful young girl, as seen through the perspectives of a relentlessly obsessed police officer, a writer captivated by her charm, and an unscrupulous news journalist.
Undekhi
With a strong rating of 8.0 and exceptional direction by Ashish R. Shukla, Undekhi is a thrilling show available on Sony Liv. The series starts with the murder of a public performer and dancer, and gradually delves into the hidden lives of the influential Atwal family. Starring Harsh Chhaya, Dibyendu Bhattacharya, and Surya Sharma, this show is filled with suspense and drama.
Paatal Lok
While Hindi television hasn't produced many satisfying crime thrillers, this web television series is a game-changer. Featuring an amazing cast including Jaideep Ahlawat, Gul Panag, Neeraj Kabi, Ishwar Singh, and Swastika Mukherjee, Paatal Lok delves into the strange and contradictory truths of India. Ahlawat's performance in particular is noteworthy, capturing the essence of the show as it explores the depth of the country's dark underbelly.
Dahan: Raakan ka Rahasya
Watch Trailer of Dahan: Raakan Ka Rahasya
Dahan is a fascinating watch that combines India's occult practices with politics. The show features stellar performances from Saurabh Shukla, Ankur Nayar, and Rajesh Tailand. The story follows a disgraced IAS officer who faces false accusations and gets involved in a strange case from Shilaspur in order to clear his name. With 9 episodes and an IMDb rating of 7.5, this horror/thriller stands out with its amazing graphics and memorable storytelling.
Shiksha Mandal
Watch Trailer of Shiksha Mandal
Shiksha Mandal is a rare find in Indian cinema and television. Directed by Syed Ahmad Afzal and written by Ravi Kumar Tiwari, this series features a wonderful cast including Gauhar Khan, Gulshan Devaiah, and Pawan Malhotra. With an IMDb rating of 7.4, the show offers a unique take on the dark side of the education syndicate. Aditya, a coaching teacher, is forced to confront this world when his sister gets trapped in a mafia scandal. Together with a courageous police officer, the series unravels the hidden truths of the education system.
Aranyak
Aranyak is a standout Hindi web series on Netflix. Starring Raveena Tandon, this crime thriller features amazing performances from the entire cast. Directed by Vinay Waikul, the show is set in a picturesque and fictional town in Himachal Pradesh. It follows two conflicted police officers as they try to solve the rape and murder case of a teenage girl. With a solid IMDb rating of 7.8, this series will keep you hooked with its gripping plot.
House of Secrets
Watch Trailer of House of Secrets
House of Secrets is a spine-chilling and captivating docu-series based on the infamous 'Burari Deaths'. This show combines paranormal elements with real footage of one of the strangest events we've witnessed in a while. Created by Leena Yadav and Anubhav Chopra, with music composed by A.R. Rahman and Qutub-E-Kripa, this series delves into the psychology of extremist and cultist thinking. If you're intrigued by the darker side of human behavior, this is the show for you.
Tabbar
Veteran Actress Supriya Pathak never fails to amaze with her incredibly realistic performances. She has done it once again in 'Tabbar' - a Punjabi thriller created by Harman Wadala. The show stars Paval Malhotra as Omkar Singh, the central character. An unintentional exchange of travel bags puts Singh's family in a precarious situation where bloodshed and lies continue to escalate. With impressive performances and a nightmarish atmosphere, this SonyLiv show is sure to keep you on the edge of your seat.
Hello Mini
Hello Mini is a romantic thriller directed by Faruk Kabir and starring Anuja Joshi. With 3 seasons and 35 episodes, and a user rating of 8.2 on IMDb, this show takes viewers on a thrilling journey. It revolves around an independent girl with a normal life until she encounters a strange stalker/admirer. As the show progresses, layers of lies are revealed, making for an enjoyable and suspenseful watch.
Samantar
Samantar has an incredibly exciting storyline. It features two individuals with the same destinies, including identical palm lines. The narrative is unique and interweaves different timelines as a young man tries to change his destiny by learning about his future through another man's life. Starring Swapnil Joshi, Tejaswani Pandit, and Nitish Bhardwaj, this series will keep you hooked from start to finish.
Matsya Kand
Matsya Kand is an exceptional show with an IMDb rating of 9.0. Featuring memorable performances from Ravi Kishan, Ravi Dubey, and Piyush Mishra, this show follows the story of Matsya Thada, a genius conman and master of disguise, and his wrestling struggle against a ruthless cop. This cat and mouse chase will keep you on the edge of your seat. Directed by Ajay Bhuyan, you can stream this show on MX Player.
Rudra
Rudra is a Hotstar special featuring India's favorite Ajay Devgan. Super-cop Rudra Veer Singh finds himself unraveling maze-like mysteries created by psychopathic minds. Rudra himself remains a mysterious character, adding to the enigma. Actress Raashi Khanna delivers an impressive performance in this official Indian remake of the British series 'Luther'. Directed by Rajesh Mapuskar, this show will keep you hooked with its gripping storyline.
Your Honor 1 and 2
Your Honor stars the talented Jimmy Shergill in a thrilling drama about a judge who desperately tries to save his son involved in a hit-and-run case. With a total of 22 episodes, this show is available for streaming on Sony Liv. It is an adaptation of the Israeli series 'Kvodo' and has been directed by Eeshwar Nivas. If you're looking for an interesting watch, this series is definitely worth your time.
The Great Indian Murder
Watch Trailer of The Great Indian Murder
The Great Indian Murder revolves around the murder of a notorious industrialist named Vicky Rai. As the line of suspects grows, the plot thickens with every episode. With an IMDb rating of 7.3, this show is available for streaming on Disney Hotstar. Prepare to be captivated by the performances of Pratik Gandhi, Richa Chadha, and Ashutosh Rana. Directed by Tigmanshu Dhulia, this series is a must-watch for fans of crime thrillers.
JL 50
If you're a mystery and thriller enthusiast, JL 50 is the perfect web series for you. Starring Abhay Deol in the lead role, this series follows an investigation officer who tries to solve the puzzling case of a plane disappearing and crashing 35 years later. The inspector's team explores various angles and pursues different leads, making for a captivating watch. Sony LIV brings this intriguing series that will keep you hooked from beginning to end.
Bhaukaal
Comedy & Drama
Minus One 2
Watch the Trailer of Minus One 2
If you are a fan of FilterCopy, then Minus One 2 is a must-watch for you! Starring Aisha Ahmed and Ayush Mehra, Minus One 2 presents a captivating and relatable story of a couple. The familiar faces and exceptional acting add a realistic touch to the series. The plot revolves around a couple who decide to live together but later break up. However, they choose to remain roommates, and Minus One offers a glimpse into their lives after this decision.
Lockdown with My Crush
Have you ever imagined spending a few days with your crush? Lockdown with My Crush follows Shivam Sharma, a bachelor who lives with his roommate. Shivam gets the opportunity to spend lockdown with his crush, and chaos and hilarity ensue. This light and entertaining series is available on Prime Video and is perfect for a weekend binge-watching session.
Jab We Matched
Watch the Trailer of Jab We Matched
Jab We Matched is a unique story that revolves around dating apps, which have become an integral part of our lives. Unlike a typical dating show, Jab We Matched focuses on four individuals with different perspectives about dating apps. They meet each other with different goals in mind, and hilarity ensues. The series provides a refreshing take on modern-day relationships and is available on Amazon miniTV.
Rafta Rafta
Watch the Trailer of Rafta Rafta
Rafta Rafta showcases Bhuvan Bam at his best and is perfect for a binge-watching session! The series revolves around a newlywed couple who are anything but the usual romantic pair. They are a bit awkward and as they get to know each other, they also discover themselves. Rafta Rafta strikes a perfect balance between comedy and romance, making it an ideal choice for a date night. This TV series is available for streaming.
Sixer
As the name suggests, Sixer is a story about a group of local cricket players and enthusiasts determined to win the neighborhood cricket competition. However, the local politicians create problems and chaos at every step. Sixer, a popular web series on Zee5, follows the individual struggles of the players towards victory. The brilliant direction and acting ensure that the audience is hooked from the very first scene.
Girls Hostel
Watch the Trailer of Girls Hostel
In 2018, when the Indian media was going through a revolutionary transition, Girls Hostel premiered. This program, which explores female friendships in a challenging environment, originated from a similar source. The hostel is portrayed as a prison, where every inmate must overcome difficulties to achieve personal growth.
The series depicts the lives of college girls, who face various management issues but are often ignored by the system. The plot revolves around their efforts to fight the system as a group, even as they leave their personal problems behind after reconciling.
Half Pants Full Pants
Watch the Trailer of Half Pants Full Pants
Do you remember the good old days of childhood when life was full of dreams? Half Pants Full Pants will surely take you back to those lovely times! Adapted from Anand Suspi's autobiography, this TV series revolves around a young boy and his adventurous life. Half Pants Full Pants is a heartwarming watch for the whole family on Amazon Prime.
Meet Cute
Watch the Trailer of Meet Cute
Meet Cute explores what happens when strangers connect and share their lives. Each episode presents a dilemma and sensitively portrays the characters and their stories. Director Deepthi Ganta deserves praise for her elegant screenplay, skillfully developing relevant conflicts and wrapping up the storylines with appropriate justification. The series captivates the audience with its well-done characters, demeanor, attire, and emotional depth. The show successfully balances powerful emotions without being overly theatrical.
NCR Days
NCR Days is a recent entry in our list and has an impressive IMDb rating of 9.2. The plot, direction, and outstanding performances by the actors make it one of the best web series of the year. The show revolves around a small-town guy who moves to a big city and navigates his life among people with contrasting lives and mindsets compared to his own.
The cast includes Nikhil Vijay, Raghvika Kohli, and Ambrish Verma. This comedy drama, with a runtime of 40 minutes, is directed by Ambirsh Verma, who also wrote the story. Anant Singh Bhaatu serves as the movie's creative director.
Mumbai Diaries
Watch the Trailer of Mumbai Diaries
Mumbai Diaries is a gripping medical drama. The stellar cast, including Konkana Sen, Shreya Dhanwanthar, Tina Desai, and Mohit Raina, contributes to making it the best Indian web series of 2022.
The series is set during the 26/11 Mumbai attacks and revolves around the lives of the Bombay General staff on that fateful night. Directed by Nikhil Advani and Nikhil Gonsalves, the show expertly captures the intensity of the events. Mumbai Diaries is available for streaming on Prime Video.
Chakravyuh
Watch the Trailer of Chakravyuh
Chakravyuh is a crime drama available on MX Player. It stars Prateik Babbar, Simran Kaur Mundi, and Ashish Vidyarthi and has an IMDb rating of 7.4. The show begins with the gruesome murder of a college student, setting the stage for a complex mystery that young Inspector Virkar is determined to solve.
Director Sajit Warrier skillfully unfolds the darkest human emotions in the series, making it a tantalizing watch for crime drama enthusiasts.
Escaype Live
Watch the Trailer of Escaype Live
Escaype Live delves into the darker side of social media. The show follows six individuals who go to extreme and often unethical lengths to win a large sum from a social media app called 'Escaype Live'. This app tests human morality in unprecedented ways. You can stream the show on Hotstar. Director Siddharth Tewary has been applauded for the extraordinary concept of the series.
The cast includes Siddharth, Waluscha De Sousa, and Javed Jaaferi. Escaype Live is one of the standout web series of the year.
Rocket Boys
Watch the Trailer of Rocket Boys
You can catch Rocket Boys on Sony Liv. This historical drama stars Jim Sarbh, Ishwak Singh, Regina Cassandra, and other talented actors. The series chronicles the journey of world-famous scientists Dr. Homi Jehangir Bhabha and Dr. Vikaram Ambalal Sarabhai.
Rocket Boys takes you through some of India's significant milestones in nuclear science and the Indian Space Program. It reminds the audience of the struggles and sacrifices made by national figures leading up to India's first rocket launch.
Human
Human is arguably the best dark drama web series of 2023. Streaming on Disney+ Hotstar, the show features powerhouse performances by Shefali Shah and Kirti Kulhari, among others. The 10-episode series, directed by Vipul Shah and Mozez Singh, sheds light on the unethical human drug testing practices taking place in India. With elements of neo-noir and tech-noir, Human immerses viewers in the world of pharmaceutical scams.
Bestseller
Watch the Trailer of Bestseller
Bestseller stars Mithun Chakraborty, Arhan Bajwa, Shruti Haasan, and others. The show has an IMDb rating of 5.9 and offers entertaining moments. Directed by Mukul Abhyankar, Bestseller follows the story of a novelist who meets a budding writer during a writer's block. To overcome this, he decides to use her story for his next project. Turbulence strikes when a film assistant tries to destroy everything he holds dear.
Maharani
Maharani is a Hindi political drama set in the state of Bihar. Starring Huma Qureshi, Sohum Shah, Amit Sial, Kani Kusruti, and Inaamulhaq, the series offers a powerful socio-political narrative. Inspired by the real events that occurred in Bihar after Lalu Prasad Yadav made his homemaker wife Rabri Devi his successor, the series portrays the challenges faced by the protagonist, a novice, in the highly dramatic realm of politics. Maharani has received critical acclaim and is available for streaming on SonyLIV.
Ray
Ray is an anthology series based on the works of renowned writer and filmmaker Satyajit Ray. Indulge in four captivating short stories from various genres, including satire and psychological thrillers. The series features an impressive cast including Manoj Bajpayee, Ali Fazal, Harshvardhan Kapoor, and Kay Kay Menon. For a diverse range of genres and exceptional storytelling, head to Netflix to watch Ray.
Campus Diaries
Watch the Trailer of Campus Diaries
Campus Diaries is a 12-episode series available on MX Player. This coming-of-age drama revolves around the lives of six friends from Excel University. With an impressive IMDb rating of 9.1, the show has resonated with its target audience. Created by Abhishek Yadav and Prem Mistry, Campus Diaries strikes a perfect balance between lightheartedness and heartwarming moments.
Dhindora
For the millennials who have grown up, Bhuvan Bam holds immense importance in their lives since the inception of his YouTube channel. Dhindora stars and is created by Bam himself. The series revolves around the life of a middle-class man named 'Babloo' who wins the lottery and experiences drastic changes in his daily life. The narration is comedic, although some may say it lacks profound insight.
Panchayat 2
Watch the Trailer of Panchayat
Some people may label Panchayat as a comedy series, but it goes beyond that. It is a witty satire on the ancient system of Panchayats that continues to exist in India. This Viral Fever production delves into the life of an engineering graduate who ends up working as the secretary of a Panchayat in the village of Phulera, Uttar Pradesh.
Chopsticks
Watch the Trailer of Chopsticks
Starring Abhay Deol, Mithila Palkar, and Vijay Raaz, Chopsticks has received mixed reviews from film critics and audiences alike. The show revolves around a young and timid working girl in Mumbai who has just bought her first car. Each character is unique, and the series takes the audience on a journey of self-discovery and empowerment.
Romance Dramas
Faadu – A Love Story
Watch Trailer of Faddu – A Love Story
Have you ever heard of poetic love stories and longed for one? Well, Faddu will provide you with a glimpse of just that and leave you yearning for more. This series revolves around a boy from a small town and a girl from the city, showcasing the passion, drama, and confusion that comes with falling in love. Watch the series on Sony Liv and experience the beauty of poetic love.
Ishq Express
Ishq Express is a mini-TV series that tells the love story of Aarav and Tanya. If you're looking for a feel-good, cute story that you can binge-watch over the weekend, then Ishq Express is perfect for you. The two protagonists meet on a train to their hometown, and the simple style and narration of the story make you feel right at home. At the same time, the story becomes more and more interesting, making you root for the couple throughout.
The directors of the series are Satish Raj Kasireddi, Tanmai Ratogi, and Saurabh Swamy. Ritvik Sahore plays the role of Aarav Agarwal, and Gayatri Bharadwaj portrays Tanya Basu. The series consists of 3 episodes, allowing you to watch it at your own pace without dedicating too much time.
Indori Ishq
Bandish Bandits
Watch Trailer of Bandish Bandits
If you're unfamiliar, "Bandish" is a musical phrase used for compositions in Hindustani Music. In this series, you'll get to see some wonderful actors in a new light, including Naseeruddin Shah and Atul Kulkarni.
Although we must admit, the show does have some clichés that it fails to overcome. However, considering that it consists of only ten episodes that need to encompass everything, we can go easy on it.
Taj Mahal 1989
Watch Trailer of Taj Mahal 1989
"Taj Mahal 1989" is a seven-episode Netflix India original series that takes place in Lucknow University. It beautifully portrays various interpretations of love as understood by different characters 30 years ago. The central action revolves around Akhtar, a philosophy professor, and his wife Sarita, a physics professor, and their interpersonal conflict. For Akhtar, love is driven by philosophical and romantic notions, akin to those found in poetry. However, Sarita believes in the reality of love, rather than its philosophical ideal.
F.L.A.M.E.S
Romance and nostalgia are the timeless ingredients of classic genres. "Flames," starring Ritvik Sahore, Tanya Maniktala, and Sunakshi Grover, is the perfect web series in this category. The series takes us back to the innocent times of teenage friendships and romance, when excelling in school and winning your crush were the only ambitions you had. Watch this entertaining series on MX Player and relive the memories of your teenage crush.
Guilty
"Guilty" is a Netflix India original movie starring Kiara Advani and produced by Karan Johar. It offers a unique take on the typical plot that climaxes as a "night that changed their lives." Kiara Advani portrays the role of Nanki Dutta, the girlfriend of the band artist Vijay Pratap Singh, also serving as the songwriter for their band.
Rajma Chawal
"Rajma Chawal" is a Netflix India original film that highlights the importance of a Sunday special meal and what it represents to a North Indian family: home, family, and intimate gatherings. The film stars Rishi Kapoor and portrays a troubled father-son relationship.
Wrong Number
We all know wrong numbers can be frustrating, but in this series, a wrong number becomes a hilarious premise as Khushi, a medical student, meets Karan, a second-year engineering student. Khushi constantly messages her ex-boyfriend Rajat, who seems to have blocked her. However, one day, all her messages suddenly get delivered! The twist is that Karan's phone number previously belonged to Rajat, leading Khushi to believe she is talking to her former boyfriend. In the amusing confusion that follows in the three episodes of the series, you'll find all the ingredients of a delightful young romance plot, fueled by coincidental misconnections and switched numbers that eventually create a perfect connection between two people.
Operation MBBS
Watch Trailer of Operation MBBS
"Operation MBBS" is a newly launched series by Dice Media that surpassed 3 million views within three days of its release. It chronicles the lives of three first-year MBBS students – Nishant, Sakshi, and Huma – as they embark on their journey to become doctors and navigate the challenges they encounter along the way, forming the core of this series.
The Holiday
"The Holiday" is an MX Player exclusive web series that explores the dynamics of a male-female friendship. Unlike Bollywood stereotypes that often depict opposite-gender friendships as romantic, this series, featuring Adah Sharma, Veer Rajwant Singh, Priyank Sharma, and Aashim Gulati, focuses on the platonic and fun side of such connections. The series aims to break gender stereotypes by showcasing an unconventional bachelorette trip, emphasizing that every friendship has its own special connection. "The Holiday" offers everything you would desire from a dream vacation – best friends, luxury, adventures, and no plans. Will it all end on a positive note? Watch the series to experience friendship goals and know more.
Happily Ever After
Watch Trailer of Happily Ever After
"Happily Ever After" is a Zoom Studios original production that combines comedy, drama, and romance flawlessly. It portrays the anxieties, troubles, and glitches faced by a modern millennial couple, Roneet and Avani, as they plan their perfect dream wedding.
The conflict arises when Roneet envisions a simplistic court marriage, while Avani, who has previously been married and divorced, desires a big fat Indian wedding. As the plot unfolds, viewers can resonate with the challenges of achieving modern wedding goals and the realities of contemporary relationships amidst family tribulations.
While the series scores high on relatability, it may fall short in terms of surprising the audience, as the events are somewhat predictable. However, the best part is that the humor enhances the main plot rather than overpowering it. "Happily Ever After" is a light-hearted watch and highly recommended for those seeking heartwarming experiences.
College Romance 2
Watch Trailer of College Romance
College romances have a unique charm, and "College Romance 2" is here to remind you of that. It is not just another romantic teen drama, but one of the best web series in 2022 available for streaming. It takes you back to your own college days and portrays the complexities of friendships, love, and relationships experienced by young adults.
Yeh Hai Aashiqui
Watch Trailer of Yeh Hai Aashiqui
"Yeh Hai Aashiqui" is a romantic anthology series on Bindass that presents beautiful love stories across its four seasons and 144 episodes. Hosted by actor Rithvik Dhanjani, the show depicts heartwarming and relatable stories of love in the modern world.
In the final episode of its first season, Dhanjani narrates his own love story with co-actor Asha Negi, whom he met on the sets of their popular serial "Pavitra Rishta." Rithvik and Asha have become one of the most loved couples on television. Watch their story and many more heartfelt romances on this show.
Love, Lust & Confusion
Watch Trailer of Love, Lust & Confusion
"Love, Lust & Confusion" is a romantic drama available on Viu and has aired 13 episodes so far. It features actors like Tara-Alisha Berry, Meiyang Chang, Rajat Barmecha, and Gaurav Chopra, among others. The show encompasses drama, romance, societal interactions, and the complications of modern relationships.
"Love, Lust & Confusion" goes beyond the traditional romantic show and serves as a coming-of-age story, exploring concepts of love, lust, confusion, dilemmas, desires, and their consequences. The series follows the journey of Poroma Sarkar, a young girl trying to navigate her way in the modern world. It also delves into the ideas of polyamory and lust in the millennial age.
Baarish
"Baarish" is a romantic and social drama by Ekta Kapoor for her online streaming platform ALT Balaji. Starring Sharman Joshi and Asha Negi, the series tells the beautiful love story of two individuals who are poles apart but are brought together by fate and eventually fall in love.
Anuj, a successful Gujarati businessman, has built his business empire from scratch after his father's demise. On the other hand, Gauravi is a middle-class Marathi girl who believes in prioritizing education above all else. These two opposite personalities are brought together in an arranged marriage, leading them to discover each other. All of this romance takes place against the backdrop of the beautiful Mumbai rain, giving the series its name, "Baarish."
Kaisi Yeh Yaariaan
Watch Trailer of Kaisi Yeh Yaariaan
"Kaisi Yeh Yaariaan" is a story of friendship, love, and relationships in the lives of young adults. Originally premiered on MTV and now moved to Voot, the series consists of three seasons and stars Niti Taylor, Parth Samthaan, Yuvraj Thakur, Ayaz Ahmed, Veebha Anand, and many other talented actors.
The first season focuses on Manik and Nandini, who find themselves caught between love and friendship. The second season continues their story, depicting how their lives change due to evolving dynamics. In the third season, we catch up with Manik and Nandini four years later, witnessing the growth and evolution of their relationship as responsible adults.
It Happened in Hong Kong
Watch Trailer of It Happened in Hong Kong
"It Happened in Hong Kong" is a romance mini-series that explores themes of solo travel, meeting strangers, and self-discovery. Starring Amol Parashar and Aahana Kumra, the series is set in the beautiful city of Hong Kong.
Aahana is a strong, independent woman who embarks on a solo trip to Hong Kong after breaking up with her fiancé. There, she meets Amol, who is also alone in the city for a business trip. They decide to explore Hong Kong together and form a bond through their shared experiences. However, their new connection is challenged by their past and existing commitments. The series explores whether their story will have a lasting impact or remain just a passing acquaintance.
Spotlight
"Spotlight" and "Spotlight 2" are two mini web series produced by Vikram Bhatt that delve into the world of Bollywood and entertainment through the eyes of the protagonists. "Spotlight" stars Tridha Choudhury, Arif Zakaria, and Sid Makkar, and revolves around Bollywood superstar Sana Sanyal, who is incredibly famous but deeply lonely. The search for true love becomes the focal point of the story.
"Spotlight 2" draws inspiration from the movie "Aashiqui 2" and stars Karan Grover, Aditi Arya, and Ruhi Singh. It portrays the story of Vicky, an emerging musician and rock star who becomes depressed after losing the ability to sing. His girlfriend Jyotika helps him rebuild his life and find new hope.
Puncch Beat
"Puncch Beat" is a popular romantic drama on ALT Balaji, starring Priyank Sharma, Siddharth Sharma, Harshita Gaur, Khushi Joshi, Krishna Kaul, and many others. Released in 2019, the series consists of 13 episodes in its first season. It is set in Rosewood High School, a prestigious institution in the mountainous city of Dehradun, India.
Rosewood High has strict rules and places utmost emphasis on boxing, dancing, and discipline. However, the school faces turmoil when Rahat, a street fighter, challenges Ranbir, the undefeated champion of the school. Additionally, the series explores the stories of Divyanka, a state-level dancer, and Padmini, the school diva.
Broken But Beautiful
Watch Trailer of Broken But Beautiful
"Broken But Beautiful" is a Hindi romance web series created by Ekta Kapoor, available for streaming on ALT Balaji. It stars Vikrant Massey and Harleen Sethi in the lead roles. The show revolves around the themes of romance, heartache, and the emotional connections that bind two individuals in the harsh realities of the world.
Veer and Sameera are two strangers with contrasting personalities. However, they find solace in their shared experience of heartbreak. As they come together, "Broken But Beautiful" reaffirms your belief in the healing power of love, portraying a beautiful journey of the protagonists.
Kehne Ko Humsafar Hain
Watch Trailer of Kehne Ko Humsafar Hain
"Kehne Ko Humsafar Hain" is a poignant story of love, relationships, and society, with extramarital affairs being a major plot point. The series stars Ronit Roy, Mona Singh, Gurdeep Kohli, Pooja Banerjee, Palak Jain, and others. It is available for streaming on ALT Balaji and associated platforms.
Poonam is a devoted wife, while her husband Rohit Mehra is in love with an interior designer named Ananya Sharma. Poonam struggles to keep her family together, with her two daughters Bani and Nikki, while Rohit is torn between society and his marriage on one hand and his true love on the other. "Kehne Ko Humsafar Hain" explores how the characters navigate this web of relationships and the consequences they face. The series has aired two seasons to date.
Haq Se
"Haq Se" is a romantic cum social drama available on ALT Balaji. It stars Rajeev Khandelwal, Surveen Chawla, Parul Gulati, and many others. The series is set against the picturesque backdrop of Kashmir and tells a story of love, dreams, hope, and war amidst the unrest in the region.
The story revolves around four sisters – Meher, Jannat, Bano, and Amal – who strive to keep their spirits high after their father's medicine factory is burnt down and he is deployed to Siachen for the army.
Khandelwal portrays Dr. Naushad Rizwi, Meher's boss, who skeptically approaches love after being betrayed by his wife and left to raise their daughter alone. "Haq Se" explores how these characters hold on to their dreams, find love and happiness, and navigate the challenges that come their way.
It's Not That Simple
Biography Series
Physics Wallah
Watch the Trailer for Physics Wallah
The Biography Series presents Physics Wallah, a captivating show airing exclusively on Amazon Mini TV. This series revolves around the life and achievements of Alakh Pandey, the renowned founder and CEO of PhysicsWallah, a highly regarded edtech platform. Alakh Pandey has transformed online learning by delivering top-notch education at an affordable price. Through his platform, he has made education accessible to students who cannot afford expensive tuition fees. The TV series follows his incredible journey to establish an advanced and modern education system.
Scam 1992
Watch the Trailer for Scam 1992
Money makes the world go round, and nobody understood this better than Harshad Shantilal Mehta, a prominent figure in India during the 1990s. Ask your parents, and they will likely share countless stories about him. Scam 1992 is an enthralling series that delves into the life of this man and his questionable tactics that led him to immense financial success. Based on the critically acclaimed book "The Scam: Who Won, Who Lost, Who Got Away," this series offers a compelling adaptation of a gripping story.
Karenjit Kaur
Watch the Trailer for Karenjit Kaur
Karenjit Kaur is an extraordinary biographical web series that chronicles the life of Sunny Leone, who was initially known as Karenjit Kaur. This biopic is divided into three seasons, with a total of 24 captivating episodes available exclusively on Zee5. Starring Sunny Leone, along with Raj Arjun, Rysa Saujani, Karamvir Lamba, and more, this series offers a deep dive into Sunny Leone's journey from a simple Sikh girl in a middle-class family to her transition into the adult film industry and subsequent success in Bollywood. Get ready to uncover lesser-known details about her life, career choices, relationships, controversies, and hardships. Filmed in Mumbai and Cape Town, this series is available in multiple languages, enabling a wider audience to appreciate Sunny Leone's remarkable story.
Roar of the Lion
Watch the Trailer for Roar of the Lion
Roar of the Lion is an engaging and thought-provoking documentary drama series that features the esteemed former Indian skipper, MS Dhoni. Airing on Hotstar, this series consists of one captivating season with five gripping episodes. Released in 2019, it has garnered immense praise from viewers across the globe. The series offers unique insights into the Indian Premier League (IPL) scene, with a particular focus on the Chennai Super Kings (CSK). It delves into the challenges faced by the CSK team, including a spot-fixing scandal that led to their ban from the IPL for two years. Witness their triumphant comeback in 2018, led by the remarkable Dhoni, who guided CSK to victory in their first year of reinstatement.
Bose: Dead/Alive
Watch the Trailer for Bose: Dead/Alive
Bose: Dead/Alive is a mesmerizing historical period drama web series based on the remarkable life story of Netaji Subhash Chandra Bose, a revered freedom fighter and leader in India's fight for independence. Starring Rajkummar Rao as Bose, alongside Naveen Kasturia, Edward Sonnenblick, and Anna Ador, this series offers an immersive experience. The series follows the mysterious circumstances surrounding Bose's rumored death in a plane crash in Formosa on August 18, 1945. However, when Bose's family receives indications from Mahatma Gandhi suggesting that he might be alive, an intriguing quest begins to unveil the truth about his fate and current whereabouts, if he is indeed alive.
Reality Shows
The Remix
Watch the Trailer for The Remix
The Remix is an exhilarating reality web series exclusively available on Amazon Prime. Premiered in 2018, it adopts a unique musical challenge format, where talented contestants showcase their skills by singing remixed versions of popular Bollywood songs. Hosted by the charismatic TV actor Karan Tacker and featuring esteemed judges Sunidhi Chauhan, Amit Trivedi, and Nucleya, this show offers a captivating blend of music, drama, and grandeur. The first season, consisting of ten rounds, including a thrilling Grand Finale, has already concluded. Immerse yourself in this extraordinary musical journey and enjoy the enchanting essence of some of Bollywood's best and most beloved songs.
Comicstaan
Watch the Trailer for Comicstaan
Comicstaan is a riveting stand-up comedy reality competition web series that showcases some of the most outstanding talents in the Indian stand-up comedy scene. Presented in a nine-episode format, this series features beloved comedians in their search for fresh new talent. Hosted by Abish Mathew and Sumukhi Suresh, whose hilarious antics keep viewers entertained, this series promises laughter and entertainment. The esteemed judging panel consists of Biswa Kalyan Rath, Sapan Verma, Tanmay Bhat, Kanan Gill, Kaneez Surka, Kenny Sebastian, and Naveen Richard. This highly acclaimed series has already gained recognition as the most-watched show on Prime Video in India during its debut week. Additionally, the second season has been announced, with the popular comedian Zakir Khan joining the esteemed panel of judges.
Hear Me Love Me
Watch the Trailer for Hear Me Love Me
Hear Me Love Me is a captivating reality dating show exclusively available on MX Player. The show, hosted by the talented actor Karan Wahi, offers a unique and refreshing concept, breaking away from conventional reality show formats. In this series, young participants embark on a journey to find love while exploring various destinations. They encounter new places and cuisines as they strive to discover a compatible partner. What sets this show apart is the emphasis on finding love based purely on personality, without the influence of physical appearance. The contestants go on three dates with different individuals, unable to see their faces. Based solely on their interactions, the participants must choose the most suitable partner. The faces are later revealed, and decisions regarding further dates are made. Additionally, Karan Wahi serves as a guide and mentor, sharing personal anecdotes on love and relationships.
Feet Up with the Stars
Watch the Trailer for Feet Up with the Stars
Feet Up with the Stars is an exceptional celebrity chat show available on Voot that deviates from typical interviews with Bollywood stars. This laid-back and relaxed show provides a cozy setting for stars to engage in casual conversations and have fun. Hosted by Anaita Shroff Adajania, this show offers an entertainment extravaganza where celebrity guests unwind, share interesting anecdotes, and engage in gossip sessions while comfortably putting their feet up. Join in on the excitement and indulge in some behind-the-scenes revelations from the world of entertainment.
Love OK Please
Watch the Trailer for Love OK Please
Love OK Please is an exciting reality travel show streaming on MX Player that introduces a unique concept for viewers seeking a break from conventional reality shows. Hosted by the talented actor Karan Wahi, this series takes boys and girls on a captivating journey together. As they explore new places and cuisines, they simultaneously strive to determine if they have found their ideal partner. Witness the excitement, adventure, and romantic encounters as relationships blossom against the backdrop of breathtaking locations.
Horror
Typewriter
Watch the Trailer for Typewriter
Typewriter is an extraordinary atypical horror web series created by Sujoy Ghosh, exclusively available on Netflix as an original series for India. Consisting of five episodes, this series combines fearsome instances with gripping suspense, ensuring an unforgettable viewing experience. Set in Bardez, Goa, the story centers around an abandoned and haunted family home that is reoccupied by Jenny, the granddaughter who spent her childhood in the same villa until her grandfather's death. Interestingly, Jenny's grandfather was a renowned writer of horror and ghost stories, adding a unique twist to the narrative.
Booo Sabki Phategi
Watch the Trailer for Booo Sabki Phategi
Booo Sabki Phategi is a captivating horror comedy web series featuring renowned actors such as Tusshar Kapoor, Mallika Sherawat, Sanjay Mishra, Krushna Abhishek, and Kiku Sharda. This series offers light-hearted entertainment and follows a group of friends who plan to spend their holidays in an uninhabited haunted heritage hotel. Expect the usual mix of encounters with ghosts, with Mallika Sherawat playing a prominent role. Although the series leans more towards plain comedy rather than intellectually rich humor, it guarantees a simple, fun-filled experience that will leave you laughing.
Ghoul
Ghoul is a gripping horror web series starring Manav Kaul and Radhika Apte. Set in an army interrogation center, this series introduces a feared terrorist who is held captive as a prisoner. The prisoner, believed to be the leader of a notorious terrorist organization, holds more secrets than meet the eye. The plot thickens when the prisoner turns the tables on his interrogator, Nida Rahim, and reveals shocking truths. As the story unfolds, Nida Rahim encounters a ghoul inhabiting the prisoner, Ali Saeed, leading to a thrilling and suspenseful narrative.
Tantra
Vikram Bhatt presents Tantra, an enthralling supernatural web series that delves into the dark realms of black magic. Available on Bhatt's YouTube channel, VB on the Web, this series is directed by Sidhant Sachdev and features a talented cast including Aditi Arya, Salina Prakash, Vidur Anand, Karim Haje, and Sandeep Bharadwaj. Tantra weaves a web of black magic and supernaturalism against the backdrop of family feuds and office politics, creating a world far removed from reality. With 48 gripping episodes, this series boasts outstanding performances and promises a riveting blend of drama, horror, and thrilling adventures that will transport you beyond the realm of normalcy.
Parchhayee: Ghost Stories by Ruskin Bond
Watch the Trailer for Parchhayee
Parchhayee is a compelling horror web series available on Zee5 that draws inspiration from the brilliant short stories of renowned author Ruskin Bond. Starring the talented cast including Isha Talwar, Sumeet Vyas, Anurita Jha, Farida Jalal, and Sarah-Jane Dias, this series presents spine-chilling and captivating supernatural stories that will leave you enthralled. Based on the work of Bond, each episode explores a unique mystery or horror story, offering eight thrilling episodes in total. Prepare to be amazed by the wonders of Indian hill adventures and immerse yourself in the captivating essence of each story.
High Priestess
Watch the Trailer for High Priestess
High Priestess is an exhilarating supernatural thriller and a Zee5 Telugu original series. Available in Hindi and other languages on the online streaming platform, this series stars Amala Akkineni, Kishore Kumar, Varalakshmi, and many others. With eight gripping episodes, High Priestess revolves around Swathi Reddy, a psychic and tarot card reader who helps her clients with peculiar cases involving supernatural phenomena. As she delves deeper into her clients' lives, she discovers shocking truths and encounters supernatural forces that reveal mystical secrets. Through interconnected stories, High Priestess offers an enthralling narrative that keeps viewers on the edge of their seats.
Twisted Tales
Twisted Tales is a riveting horror anthology show available on Eros Now. Comprising three independent episodes, this series explores the realm of horror and supernaturalism. Although not much is known about the specific plot details, the show promises to deliver thrills and terror that will keep you at the edge of your seat. Brace yourself for unexpected twists and turns as each episode presents a unique story filled with suspense and chilling excitement.
Memories
Memories is an exceptional supernatural fantasy drama available on Viu. Starring Rohit Roy, Harsh Singh, Priyal Gor, Madan Joshi, and Surleen Kaur, this series offers brilliant performances and unravels the intricate connection between reality and imagination. The story revolves around Siddharth, a renowned news anchor at India Now, who possesses a unique ability. He can access the thoughts, emotions, and memories of deceased individuals by touching their bodies. Siddharth utilizes this extraordinary power to aid the police in solving murder cases. However, his own life becomes entangled when he meets a woman named Priya, and her memories are awakened during a coma. Experience the magic and mystery of Memories as it explores the blurred lines between the real and the imaginary.
Literary, Society & Fiction
Jamtara
Jamtara is a gripping Netflix India original web series that spans ten episodes. Based on true events, the story explores a phishing scam that took place in Jharkhand. Set against the dusty landscapes of Jharkhand, the series follows two cousins, Rocky and Sunny, as well as a group of young boys who impersonate bank officials to extract private information from unsuspecting individuals.
Rocky dreams of becoming a politician, while Sunny, the mastermind behind the scams, aspires to become the wealthiest man in Jamtara. This web series weaves together themes of politics, capitalism, digital crime, illegal businesses, and political scams to expose some of the bitter truths of society.
Jamtara raises important questions about the consequences of providing free internet access to under-educated rebels. The series also features strong female characters portrayed by actresses Monika Panwar and Aksha Pardasany, adding a feminist appeal to the narrative. With a cliffhanger ending, the concluding episode will leave viewers eagerly awaiting the next season.
The Family Man 2
Watch the Trailer of The Family Man
The Family Man, an Amazon Prime original series, starring Manoj Bajpayee, is one of the best web series available for streaming. The story revolves around Srikant Tiwari, a middle-class family man, who also happens to be a secret intelligence officer. Created by Raj and DK, this spy and detective thriller explores the challenges faced by an ordinary man torn between his family and his national duty.
Srikant struggles with the complexities of his married life with his wife Suchi, while also dealing with the pressures of his underpaid government job. At work, he commands respect from his subordinates, adding an interesting dynamic to the story. Inspired by true events, the series offers a critical look at homegrown terrorism and questions the validity of Muslim terrorism.
Featuring Manoj Bajpayee's exceptional performance, The Family Man keeps viewers glued to the screen until the very end. With the second season completed and awaiting release, audiences eagerly anticipate what the show has in store this time.
The Forgotten Army – Azadi Ke Liye
Watch the Trailer of The Forgotten Army – Azadi Ke Liye
The Forgotten Army is another gripping Amazon Prime original web series that challenges the nature and validity of history. Directed by Kabir Khan, the story revolves around Colonel Surinder Sodhi and Maya Srinivasan, two individuals who fall in love amidst the chaos of war, when they are living on borrowed time. Through the voiceover by Shahrukh Khan, the series narrates the story of the Azad Hind Fauj, an army of over 60,000 men and women who became refugees in their own country.
This series takes on added relevance in today's context, as it resonates with the ongoing CAA and NRC protests. It prompts viewers to question the bureaucratic politics that divides people for its own sake and whims, shedding light on the uselessness of it all.
Leila
Leila, a Netflix India original television series, starring Huma Qureshi and Rahul Khanna, is a highly recommended series for audiences of all kinds. This brave political narrative is a digital adaptation of Prayaag Akbar's novel of the same name, directed by Deepa Mehta.
Set in the dystopian world of Aryavarta, where purity and sacrifice govern, the series unveils a society marked by suffering, extreme rules, and an obsession with purity and community. Women in this world undergo the Agni pariksha, as depicted through Qureshi's character's confinement in a labor camp. The bold performances in this content-based drama series will leave viewers captivated and eager to binge-watch the show on Netflix.
Afsos
Afsos, an Amazon Prime Video mini-series, revolves around the classic plot of a suicidal protagonist seeking the help of a suicide assistance service provider. Based on the lesser-known Bengali novel 'Golper Goru Chaande,' the series follows the journey of Nakul, who has attempted suicide multiple times but finds himself caught in a contract he no longer desires. The series delves into the struggles faced by Nakul as he tries to change his fate while being pursued by Upadhayay, the determined executor of his contract.
Receiving both positive and negative feedback from critics, Afsos captivates viewers with its action-packed storyline, although it may not offer anything out of the box.
Stories by Rabindranath Tagore
Watch the Trailer of Stories by Rabindranath Tagore
Directed by Anurag Basu, Stories by Rabindranath Tagore presents 20 of the best classics by Rabindranath Tagore, enacted by brilliant actors such as Radhika Apte, Sumeet Vyas, Anupriya Goenka, and Amrita Puri. These stories feature strong, complex characters and explore emotional and bold narratives about family and relationships.
Chokher Bali, Monihara, Atithi, Kabuliwala, and many more of Tagore's popular tales come to life in this series, offering viewers a taste of classic Bengali literature and an opportunity to understand the nuances of Indian society in Tagore's era.
Selection Day
Watch the Trailer of Selection Day
Based on Aravind Adiga's novel of the same name, Selection Day is a Netflix series that tells the story of two brothers, Radha and Manju, raised by a cricket-obsessed father. Sent to Mumbai to play in the domestic leagues, they encounter a rival named Javed as they prepare for the team's selection day.
Banned
Banned is a comedy and drama series packed with music, laughter, and friendship. It follows the story of four boys from Haryana who embark on a musical journey while navigating the complexities of the world around them. Starring Paresh Pahuja, Syed Zeeshan Qadri, Deepak Kalra, Sahil Anand, Vivek Mushran, Sheetal Thakur, and more.
Sangeet Sharma participates in a musical reality show, leading him to form a band with his cousin Gaurav Bhalla and friend Shampoo. As they start performing at Jagratas, their song lyrics are used by a local politician for political gain, thrusting them into the world of politics and social issues. Watch as these innocent boys become national figures and navigate the consequences of their music.
The Great Indian Dysfunctional Family
Watch the Trailer of The Great Indian Dysfunctional Family
The Great Indian Dysfunctional Family is a social drama on ALT Balaji that stars Kay Kay Menon and Barun Sobti in lead roles. It tells the story of the typical Indian joint family, the Ranauts, and the struggles and complications they face in maintaining their relationships.
Samar Ranaut and Vikram Ranaut are two estranged brothers. Samar returns to his family home with his wife after eight years of leaving both his family and the army. This sudden reunion puts the family through an emotional journey, testing all the bonds within the household.
Home
Home is a social web series on ALT Balaji that boasts a brilliant cast, including Annu Kapoor, Supriya Pilgaonkar, Parikshit Sahni, Amol Parashar, and Chetna Pandey. The story revolves around a middle-class family fighting against the system that threatens to take away their home.
The Sethi family finds happiness and contentment in their simple life, but their bliss is shattered when they receive an eviction notice from the government. Together, they rally against the authorities, determined to save their home.
The Test Case
Watch the Trailer of The Test Case
The Test Case is a brilliant web series on ALT Balaji that stars Nimrat Kaur, Akshay Oberoi, Rahul Dev, Atul Kulkarni, and Anup Soni, with a guest role by Juhi Chawla. Directed by Vinay Waikul and Nagesh Kukunoor, the story is based on Captain Shikha Sharma, the first woman to be considered for a combat role in the Indian Army.
Sharma joins the training academy alongside male officers to become a part of the Special Forces. She must undergo rigorous training and face numerous obstacles to prove herself in the face of adversity, including social stigma and prejudice. The series showcases her journey to graduation and highlights the challenges she overcomes along the way.
Shortcuts
Watch the Trailer of Shortcuts
Shortcuts is a unique web series presented by Voot that showcases 12 different short films as part of the series. With elements of thrill, fiction, and fantasy, this series promises a great viewing experience.
Each episode contains a high dose of emotional drama, along with unexpected twists and turns in the plot. Viewers will embark on a roller coaster journey through various aspects of life as they watch this show.
Immature
ImMature is a coming-of-age story about high school students that can be streamed on MX Player. It explores the world of teenagers, their first experiences, and the challenges they face.
Dhruv, a 16-year-old, yearns to grow up quickly. With the help of his friends, he sets out to impress the topper of his class, Chhavi. Along the way, Dhruv and his friends experience special moments such as their first drink, first fight, and first heartbreak.
The Trip
The Trip is a web series that explores self-discovery and realization, streamed on Bindass. With a talented cast including Shweta Tripathi, Mallika Dua, Sapna Pabbi, Lisa Haydon, and Shivam Bhargava, this series offers a unique journey of personal growth.
The series follows four girlfriends on a bachelorette trip to Thailand, which turns out to be much more than just fun and frolic. Along this journey, the girls encounter emotions, turmoil, and indecisions, leading to significant personal growth.
Girl in the City
Watch the Trailer of Girl in the City
Girl in the City is a popular web series streamed on Bindass.com. Starring Mithila Palkar, Rajat Barmecha, and Danny Sura, it tells the quintessential tale of a young girl navigating adulthood in a new city.
A young girl named Meera Sehgal comes to Mumbai, the city of dreams, to pursue a career in the fashion industry. The series follows her journey in the big city, her struggles, and her aspirations. With three aired episodes, it's a must-watch for those seeking relatable stories of young individuals chasing their dreams.
Tere Liye Bro
Watch the Trailer of Tere Liye Bro
Tere Liye Bro explores the theme of friendship and what it means to be a true friend. Starring Prabal Punjabi, Nikhil Khurana, Malhaar Rathod, and Pranay Pachauri, the series follows three friends, Farhan, Vineeth, and Aniket, as they navigate obstacles and support each other through thick and thin. Their friendship is tested time and again, but they prove that nothing is more important than having each other's back.
Ladies Room
Watch the Trailer of Ladies Room
Ladies Room is a web series that will resonate with best friends who have shared unexpected experiences and mischievous adventures. It follows the lives of two best friends across six different restrooms, as they navigate daily instances, mental assumptions, and unpredictable adventures. This humorous series features two wild, notorious, and unapologetic girls who make the most of their friendship.
Baked
Baked is an outstanding original Indian fiction web series that comically portrays the mishaps encountered by three university flatmates. Their ultimate plan is to launch a food delivery service operating at midnight. Perfect for students and anyone who has experienced the ups and downs of student life, Baked offers a compelling and relatable story for young viewers.
Star Boyz
Watch the Trailer of Star Boyz
Star Boyz is a comedy web series that follows the adventures of three South Indian boys in space. This science fiction series, directed by Mani Prasad and featuring Kenny Sebastian, offers a hilarious and relatable depiction of their various escapades. Viewers will find themselves laughing uncontrollably and feeling connected to the youth at heart.
Girl in the City
Watch the Trailer of Girl in the City
As the name suggests, Girl in the City tells a relatable story of a young girl striving to achieve her dreams in a new city. With excellent direction and pleasant music, viewers are taken on the journey of Meera Sehgal, a 21-year-old girl who travels from Mumbai to Dehradun to pursue a career in the fashion industry. She embarks on an internship with a deadline of three months to fulfill her dreams.
I Don't Watch TV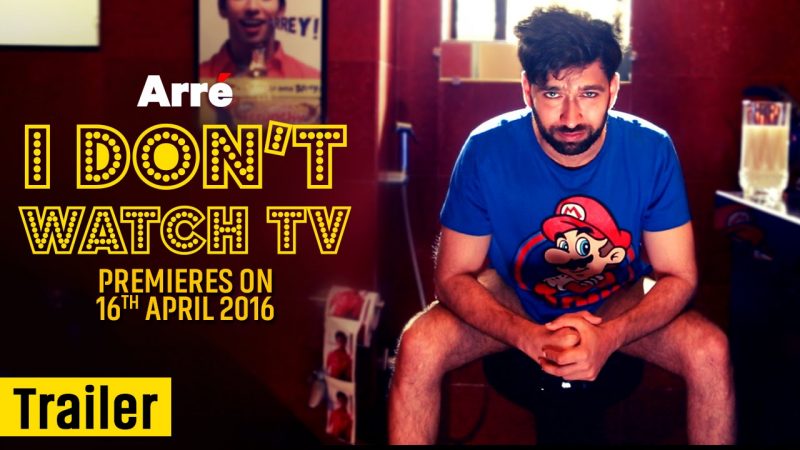 Watch the Trailer of I Don't Watch TV
I Don't Watch TV, aired by Arre, offers an inside look into the television industry, showcasing the lives of television actors, the challenges they face, and their journey to success. Directed by Ajay Singh, this series provides a comprehensive portrayal of the various aspects of this vast industry.
Tripling
Tripling, available on TVF, tells the story of three siblings and explores the love, hate, and unique experiences that come with having a brother or sister. Chandan, Chitvan, and Chanchal embark on a road trip together, resulting in funny and relatable situations that mirror the bickering and accusations commonly experienced among siblings.
Not Fit
Mirzapur (2018-2020)
What you need to know:
Rating: TV-MA
Runtime: Each episode lasts between 39 and 65 minutes
Creator: Created by Karan Anshuman and Puneet Krishna
Main cast: Starring Ali Fazal, Vikrant Massey, and Pankaj Tripathi
Genre: A combination of suspense, drama, and action
Ratings: It has received a rating of 8.5 on IMDB and the rating on Rotten Tomatoes is not available
While some may find Mirzapur to be too crude for their liking, it remains one of the most entertaining original Indian series produced to date. The standout performances by Pankaj Tripathi, Ali Fazal, and Vikrant Massey add a definite charm to this crime thriller, making it a must-watch for those looking for a gripping series to binge.
The show revolves around the realistic mafia rivalry that exists in the Indian state of Uttar Pradesh. Two brothers, Guddu and Bablu, are forced to become part of the nefarious operations of mafia don Kaleen Bhaiya in order to save their father. Over time, these innocent youngsters transform into violent criminals.
Ready to watch? You can find the show right here on Prime Video.
One Mic Stand (2019-2021)
What you need to know:
Rating: The show is rated 16+
Runtime: Each episode lasts between 27 and 33 minutes
Creator: Created by Kreeti Gogia and Karan Asnani
Main cast: Starring Sapan Verma, Karan Johar, and Sunny Leone
Genre: A mix of comedy and unscripted reality
Ratings: It has received a rating of 6.3 on IMDB and the rating on Rotten Tomatoes is not available
As the name suggests, One Mic Stand is an Indian original stand-up comedy show with a unique concept. In this series, stand-up comedians train other celebrities and public figures to perform live comedy routines on stage. The show features performances from popular figures such as Taapsee Pannu, Richa Chadha, Sunny Leone, Faye D'Souza, Vishal Dadlani, and even Member of Parliament Dr. Shashi Tharoor, all mentored by famous comedian Kunal Kamra. It's a quick and entertaining watch for those looking for a lighthearted series to enjoy.
Ready to watch? You can find the show right here on Prime Video.
She (2020-ongoing)
What you need to know:
Rating: TV-MA
Runtime: Each episode lasts between 31 and 52 minutes
Creator: Created by Imtiaz Ali
Main cast: Starring Aaditi Pohankar, Vijay Varma, and Vishwas Kini
Genre: Crime and thriller
Ratings: It has received a rating of 6.4 on IMDB and the rating on Rotten Tomatoes is not available
She marks Imtiaz Ali's first foray into creating content for the small screen. This Indian original series on Netflix follows the transformational journey of a lower-middle-class junior police constable who is pushed out of her comfort zone to undertake an intelligence mission and infiltrate a dangerous criminal organization. The series stands out for its outstanding performances, some of which shed light on the chauvinistic nature of men in authoritative positions, leaving a lasting impact on the viewers.
Ready to watch? You can find the show right here on Netflix.
Leila (2019)
What you need to know:
Rating: TV-MA
Runtime: Each episode lasts between 41 and 54 minutes
Creator: Created by Urmi Juvekar
Main cast: Starring Huma Qureshi, Siddharth, and Rahul Khanna
Genre: Drama
Ratings: It has received a rating of 5 on IMDB and a 80% rating on Rotten Tomatoes
Leila is the first dystopian Indian original series, drawing some similarities to the Hulu original show The Handmaid's Tale. While it is not a direct copy of the latter, it does borrow certain elements from it. The series, directed by Deepa Mehta and based on a novel by Prayaag Akbar, tells the story of a woman named Shalini who is abruptly taken away from her comfortable family life and thrust into the oppressive regime of Aryavarta, a totalitarian state. Given the current political climate in India, the series serves as a chilling reminder of a possible future.
Ready to watch? You can find the show right here on Netflix.
Taj Mahal 1989 (2020)
What you need to know:
Rating: TV-MA
Runtime: Each episode lasts 33 minutes
Creator: Created by Pushpendra Nath Misra
Main cast: Starring Neeraj Kabi, Geetanjali Kulkarni, and Danish Husain
Genre: A blend of comedy and drama
Ratings: It has received a rating of 7.5 on IMDB and the rating on Rotten Tomatoes is not available
Taj Mahal 1989, a best Indian original series on Netflix, consists of three interconnected love stories. The first story revolves around two college professors, Sarita and Akhtar, who find themselves trapped in a loveless marriage due to the mundane routine of their daily lives. The second story portrays Sudhakar and Mumtaz, who challenge societal norms to be together, highlighting the struggles and happiness they experience. Lastly, the series features two college students, Dharam and Rashmi, whose intense feelings for each other are overshadowed by politics, jealousy, and differing priorities. Through its impact and thoughtful storytelling, the series beautifully captures the essence of lost love, eternal love, and new love. It's a must-watch for Indian audiences.
Ready to watch? You can find the show right here on Netflix.
Jamtara: Sabka Number Ayega (2020)
What you need to know:
Rating: TV-MA
Runtime: Each episode lasts between 24 and 55 minutes
Creator: Created by Soumendra Padhi
Main cast: Starring Sparsh Shrivastava, Monika Panwar, and Anshumaan Pushkar
Genre: Crime
Ratings: It has received a rating of 7.3 on IMDB and the rating on Rotten Tomatoes is not available
Jamtara is an Indian original series on Netflix inspired by true events. This thrilling series takes you on a journey to Jamtara, a village in Jharkhand, which happens to be the phishing capital of India. Cousins Sunny and Rocky, along with their friends, run a successful phishing scam from the village, catching the attention of a criminal mastermind who wants a share of their profits. As tensions rise and lives are threatened, the police are hot on their trail, leading to intense and riveting moments. With two seasons available, both equally captivating, this show is a must-watch for fans of crime dramas.
Ready to watch? You can find the show right here on Netflix.
Selection Day (2018-2019)
What you need to know:
Rating: TV-14
Runtime: Each episode lasts between 19 and 28 minutes
Creator: Created by Marston Bloom
Main cast: Starring Mohammad Samad, Yash Shashank Dholye, and Rajesh Tailang
Genre: Sports drama
Ratings: It has received a rating of 7.3 on IMDB and a 43% rating on Rotten Tomatoes
Selection Day showcases a plethora of fantastic performances by notable actors such as Ratna Pathak Shah, Mahesh Manjrekar, Rajesh Tailang, and the two young stars of the series, Mohammad Samad and Yash Dholye. The series follows the journey of two small-town teenage boys, Manju and Radha, who dream of becoming international cricketers. Their strict and demanding father, also their coach, adds another layer of complexity to their lives. When the boys secure a scholarship to a prestigious sports school, their lives take a turn, shaping their individual personalities and putting their relationship with their father to the test. Produced by Anil Kapoor and Anand Tucker, all 12 episodes of Selection Day are a testament to exceptional storytelling and brilliant direction.
Ready to watch? You can find the show right here on Netflix.
Little Things (2016-ongoing)
What you need to know:
Rating: TV-MA
Runtime: Each episode lasts between 15 and 40 minutes
Creator: Created by Dhruv Sehgal
Main cast: Starring Dhruv Sehgal and Mithila Palkar
Genre: A mix of romantic comedy and drama
Ratings: It has received a rating of 8.2 on IMDB and the rating on Rotten Tomatoes is not available
Though not originally a Netflix series, Little Things was later acquired by the streaming service. The show revolves around the lives of a young, unmarried couple, Kavya and Dhruv, who live together in Mumbai. Aptly named, Little Things captures the nuances of their everyday experiences and documents the evolution of their relationship over the years.
What sets this Indian series apart is its lightheartedness combined with its relatability. Viewers will find themselves identifying with the couple through the many "little things" they encounter. It serves as a touching portrayal of the struggles faced by young couples as they navigate through life. If you're seeking a quick and heartwarming watch, Little Things is the perfect choice.
Ready to watch? You can find the show right here on Netflix.
Lust Stories (2018)
Lust Stories
What you need to know:
Rating: TV-MA
Runtime: The movie has a runtime of 120 minutes
Directors: Anurag Kashyap, Zoya Akhtar, Dibakar Banerjee, and Karan Johar
Main cast: Starring Vicky Kaushal, Bhumi Pednekar, and Radhika Apte
Genre: An anthology of romantic stories
Ratings: It has received a rating of 6.4 on IMDB and a 100% rating on Rotten Tomatoes
Lust Stories is a collection of four short films created by some of India's most celebrated filmmakers. Anurag Kashyap, Zoya Akhtar, Dibakar Banerjee, and Karan Johar each contribute a story to this anthology series. The cast includes talented actors such as Radhika Apte, Manisha Koirala, Vicky Kaushal, Neha Dhupia, and Sanjay Kapoor. While the central theme of the series revolves around lust, each story explores different perspectives and messages.
The first story features Radhika Apte portraying a married woman eager to explore her sexuality. The second story delves into the unlikely relationship between a man and his house help, played by Bhumi Pednekar and Neil Bhoopalam respectively. The third installment follows a couple navigating the complexities of infidelity and the tough choices they must make. Lastly, the series concludes with a humorous tale of a housewife desperately seeking sexual intimacy with her husband and finding it in the most unexpected circumstances - with the help of a vibrator.
Ready to watch? You can find the show right here on Netflix.
Hasmukh (2020)
What you need to know:
Rating: TV-MA
Runtime: Each episode lasts between 29 and 39 minutes
Creators: Created by Nikkhil Advani, Vir Das, and Team Applause
Main cast: Starring Vir Das, Ranvir Shorey, and Manoj Pahwa
Genre: Comedy
Ratings: It has received a rating of 5.4 on IMDB and the rating on Rotten Tomatoes is not available
This Netflix original Indian series features comedian Vir Das in a dark comedy that will keep you entertained. The core plot revolves around a struggling Indian comedian who rises from performing at small rural gatherings to a big televised stand-up show. However, there's a catch - in order to perform at his best, he must commit murder. Hasmukh offers an engaging and unique storyline, though some of the jokes may not always hit the mark due to uneven writing.
Ready to watch? You can find the show right here on Netflix.
A Suitable Boy (2020)
What you need to know:
Rating: TV-14
Runtime: Each episode lasts 60 minutes
Creator: Created by Mira Nair
Main cast: Starring Tabu, Ishaan Khatter, and Tanya Maniktala
Genre: Romance and drama
Ratings: It has received a rating of 6.1 on IMDB and a 70% rating on Rotten Tomatoes
Set in a newly independent India, A Suitable Boy tells the story of Lata, a passionate literature student who defies tradition and her meddling mother in her quest to choose her own husband. Torn between her family duty and the excitement of romance, she embarks on a journey of love and heartache as three very different men strive to win her heart. Directed by Mira Nair, this Indian original TV series on Netflix features a talented cast including Tabu, Ishaan Khatter, Tanya Maniktala, Rasika Dugal, Ram Kapoor, and Namit Das.
Ready to watch? You can find the show right here on Netflix.
Indian Matchmaking (2020-ongoing)
What you need to know:
Rating: TV-14
Runtime: Each episode lasts between 26 and 42 minutes
Creator: Created by Smriti Mundhra
Main cast: Featuring Sima Taparia
Genre: Reality and relationship
Ratings: It has received a rating of 6.2 on IMDB and a 38% rating on Rotten Tomatoes
If you're in the mood for an Indian original reality show, look no further than Indian Matchmaking. This series, which has two seasons, follows the journey of millennials who seek the guidance of Mumbai-based elite marriage consultant Sima Taparia in their quest to find their life partners. The show takes you on a whirlwind tour as young singles from Houston to Mumbai navigate the world of arranged marriages, complete with its twists, turns, and plenty of drama.
Ready to watch? You can find the show right here on Netflix.
Daughters of Destiny (2017)
What you need to know:
Rating: TV-14
Runtime: Each episode lasts between 56 and 65 minutes
Director: Directed by Vanessa Roth
Main cast: Featuring Shilpa Anthony Raj, Abraham George, and Ajit George
Genre: Documentary and biography
Ratings: It has received a rating of 8.6 on IMDB and the rating on Rotten Tomatoes is not available
Prepare to be moved and inspired by the docuseries Daughters of Destiny, which is perhaps the best watch on this list. The series follows the lives of five girls from ultra-poor families as they grow up at Shanti Bhavan, a unique co-ed residential school in Tamil Nadu. Through the course of four episodes and several years, the show depicts their journey, filled with hope and perseverance in the face of adversity. If you're looking for a truly touching series that leaves a lasting impact, this is the one.
Ready to watch? You can find the show right here on Netflix.
Decoupled (2021)
What you need to know:
Rating: TV-MA
Runtime: Each episode lasts between 26 and 36 minutes
Creator: Created by Manu Joseph
Main cast: Starring Madhavan and Surveen Chawla
Genre: Comedy and romance
Ratings: It has received a rating of 7.9 on IMDB and the rating on Rotten Tomatoes is not available
One of the funniest Indian originals to hit Netflix in recent times, Decoupled tells the story of a couple on the verge of divorce. R. Madhavan plays the role of a stay-at-home husband who makes a living as a writer, while Surveen Chawla portrays the role of an office-going wife with a successful career. To maintain the facade of a happy family for their daughter, who is terrified of their impending divorce, the couple lives in a large villa in Gurgaon. Drawing inspiration from the reality of daily life, Decoupled provides a highly entertaining and realistic portrayal of people, relationships, and marriage in India.
Ready to watch? You can find the show right here on Netflix.
Feels Like Ishq (2021)
What you need to know:
Rating: TV-MA
Runtime: Each episode lasts between 25 and 31 minutes
Directors: Directed by Devrath Sagar, Tahira Kashyap, Ruchir Arun, Danish Aslam, Sachin Kundalkar, Jaydeep Sarkar, and Anand Tiwari
Main cast: Featuring Radhika Madan, Amol Parashar, and Rohit Saraf
Genre: An anthology of dramas
Ratings: It has received a rating of 6.5 on IMDB and the rating on Rotten Tomatoes is not available
Feels Like Ishq may not be the best Indian original anthology series on Netflix, but it offers an easy and enjoyable watch. The show features six stories that revolve around the unexpected ways in which love can take hold. From two wedding guests who initially clash but eventually develop feelings for each other, to a teenage boy's crush on his quarantining neighbor, each episode presents a unique and heartwarming tale. If you're in the mood for a lighthearted series with charming narratives, Feels Like Ishq won't disappoint.
Ready to watch? You can find the show right here on Netflix.
With a plethora of captivating and diverse options, the world of Indian TV series has truly come into its own. From gripping thrillers like "Sacred Games" and "Mirzapur" to heartwarming dramas like "The Family Man" and "Little Things," there's something for everyone to enjoy. Whether you're in the mood for action, comedy, romance, or even literary adaptations, these stellar shows have set a new standard for excellence. So, grab your popcorn and get ready to be immersed in the rich and enthralling world of Indian television. Happy binge-watching!